Piłsudskiego 17/34
Number of guests:

5
Number of bedrooms:
1 bedroom
1 single bed
1 queen bed
1 double sofa bed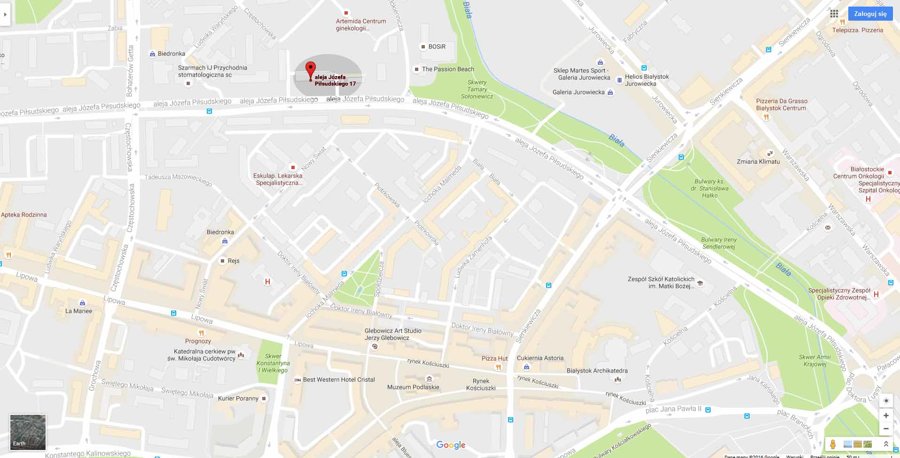 Komfortowe wnętrza apartamentu przy Piłsudskiego 17 w Białymstoku to doskonała przystań dla przybyszów zwiedzających ciekawe zakątki Podlasia, osób przebywających tu służbowo, a także małżeństw in vitro korzystających z usług białostockich klinik. Doskonale wyposażone i stylowo urządzone – jak wszystkie nasze mieszkania na wynajem – będzie wspaniałym miejscem odpoczynku.
Pokoje na wynajem przy Piłsudskiego 17 są urządzone w dobrym standardzie i wyposażone we wszystkie niezbędne urządzenia RTV/AGD, bezprzewodowy internet, komplet naczyń, kawę i herbatę – słowem wszystko, co pozwoli wypocząć po aktywnym dniu.
Oferowane przez nas noclegi sprawiają, że wspomnienie o Białymstoku wywołuje uśmiech na twarzy a adres strony internetowej i nasz numer telefonu są przechowywane ze starannością i uwagą. Apartament przy Piłsudskiego to miejsce w ścisłym centrum, co umożliwia sprawny dojazd w każde z ciekawych miejsc na terenie miasta – a do miejskiej strefy rozrywki przy Ratuszu można w kilka minut dostać się piechotą.
Zapraszamy!
Amenities
Full kitchen
Kitchen
Refrigerator
Bathroom amenities
Shared bathroom
Shower
Cable television
Satellite television
Color television
Hairdryer
Iron
Children welcome
Free Wi-Fi
Additional options
Additionally charged while booking:
Śniadanie

23.00 zł

(per person per night)
Additional information for bookers